Juan Diego Florez returns to the Met with his acclaimed turn as Le Comte Ory. Pretty Yende makes her anticipated Met debut.
The Production
Bartlett Sher made his third production with Le Comte Ory. He set the opera within a theater and it was supposed to be an opera within an opera. The concept was confusing because in the end t
he production did not work. Critics called it incompetent and stated that "Michael Yeargan's sets looked like something middle schoolers could knock together from cardboard boxes and shower curtains. But even they might have passed muster had Sher placed even a single witty scene before them. Instead, he settled for breast-grabbing, butt-groping and enough hammy business for actor Rob Besserer, in an extraneous role, to steal focus from every musical or dramatic climax." Some were less harsh stating that while it did not work they would accept it. The New York Times was one of the few to enjoy the production stating that Sher brought Nuance, and intelligence." The production is made up of an old
barn of a place, with brick walls lined with candles. Within that big room there is a miniature theater with a low platform stage and a curtain in back." The sets are stark and sometimes boring to look at but if there are good performers on it the production works. With Juan Diego Florez back on board, Sher's production should be as refreshing as the first time around
Juan
Diego Florez
returns to his acclaimed turn as Le Comte Ory. The tenor who made his Met debut in 2002 as Count Almaviva in Il Barbiere di Siviglia has become one of the Met's biggest stars. The tenor now known as the King of the High C's has been hailed for his technical proficiency, his delicacy in phrasing and his vocal fireworks. When Juan Diego Florez first sang the role of Ory in 2011, critics hailed him for his coloratura singing. The financial times stated that "He attacks and/or floats top tones with laughing ease, phrases with slender grace and exudes charm even when impersonating a singing nun." They also commented on his comic timing stating that Florez "knows when to tease and when to give, one moment quick and light, the next showing flashes of steely determination. Last year Florez sang "L'Elsir d'amore" and wowed audiences with these same qualities as well as his chemistry with his fellow colleagues. Coming from those two successes Florez is sure to bring all these qualities back to the Met.
Pretty Yende
will make her Met debut as the Countess Adele in Le Comte Ory. Operalia winner will step in after star soprano Nino Machaidze cancelled the run due to illness. South African Yende has made her name around the world as a Belcanto specialist singing diverse roles from the repertoire and from all three composers Rossini, Bellini and Donizetti. She recently made her debut at La Scala and the Lativian National opera to rave reviews. Yende has a hard feat this year as Diana Damrau created the role at the Met that will be hard to forget. The soprano has been hailed for her vocal purity and her flexibility and while she is not a complete coloratura, Yende may add a different layer to the role that has yet to be seen.
Karine Deshayes
returns to the Met after an absence of 6 years. The mezzo soprano made her debut in 2007 singing the role of Siebel in Faust and never returned.
Critics
called her voice beautiful and stated that she was be a great asset to the Met roster. However that proved wrong. Deshayes hash a since made her career in Europe singing diverse roles in the Belcanto repertoire, Mozart Operas and in French works in the greatt theaters. One wonders why she has not returned or why the Met has taken so long to realize they are missing such a great artist. Her return to the Met should be interesting as the voice has evolved and she mostly has grown as an artist. Deshayes should most likely be an artist to look forward to and one that should be at the Met more often.
Baritone
Nathan Gunn
makes an appearance at Met in the role of Raimbaud. The baritone made a triumphant turn last year in the acclaimed run of Billy Budd.
Critics
stated that his soft singing and his velvety tone were heart breaking. The role was so memorable that many thought it was crime not record it on HD. This Gunn who made his debut in 1995 in The Ghost of Versailles returns to comedy this season a trait he is well known for. He has sung the roles of Figaro and mercutio to raves with critics calling him brilliant, suave, and smooth. The role of Raimbaud should be a piece of cake as he pulls off his drinking song with charisma, charm and becomes Ory's counterpart. Gunn will most likely add a seducing quality to the role and bring down the house with physicality and flexibility on stage.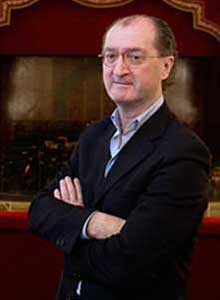 Maurizio Benini
returns to the pit after conducting Maria Suarda, and L'Elisir d'Amore. The conductor this year has proved that he the right fit for bel canto as he brought depth to the Um pah pah rhythms and swift tempi that move the action forward. He has infused vitality to the repertoire that other conductors take for granted. In Maria Stuarda he was able to give each character a specific temper and in
L'Elisir d'Amore
brought energy if sometimes lacked cohesion between the singers and him. When Benini conducted Ory in 2011
critics
were not happy with his polite approach and his conducting took the fizz out of Rossini's colorful score. However this year Benini has had a renaissance in his career and Benini's work should be less generic and more inspired.